Royal Caribbean Cruise
By Hanna Nilson

Royal Caribbean International was founded in 1968 by Anders Wilhelmsen & Company and is currently based out of Miami, Florida. The cruise line, Royal Caribbean Cruises Ltd. has a growing fleet of 21 ships with 2 still under construction.
Like any other cruise line, each of the Royal Caribbean cruise ships includes a top-of-ship lounge called the Viking Crown Lounge. Similar to Carnival Cruise ships, some of the great features comprise of stylish bars and lounges, a main dining room, spas, gyms and various alternative dining venues…not to mention the nightly live music performances and all-around panoramic view! Furthermore, Royal Caribbean cruise owns 2 private resorts in the Caribbean and Bahamas. These stops are featured on some of the itineraries for cruise destinations to the coast of Haiti, Coco Cay and the Berry Islands. Each of these paradise ports offers white sand beaches, canopies and lounge areas for dining and an overall venue for a relaxing island experience you'll never forget!
If you're considering a vacation get away to the Caribbean islands and beyond, check out these Royal Caribbean Cruise destinations!
Bahamas Cruise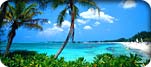 Whether you're looking for a thrilling Parasail ride above the breath-taking island coastlines, swim with dolphins, scuba-dive into crystal clear turquoise waters or just sit back, relax and enjoy the sunshine; theres no place like the Bahamas.

Cruise to Asia
Some of the featured destinations for the Royal Caribbean cruise include Hong Kong, Cambodia, Taiwan, Singapore and Vietnam. Here, guests have the opportunity to sightsee from the worlds tallest building, shop in the city's exotic open-air markets or get a taste of exquisite cultural foods.

Cruise to Europe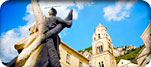 Italy, Spain, Greece, France, Turkey Russia, Norway, Venice and so much more!
This is just a scratch on the surface of a life changing glimpse into the rich culture and history of Europe. Take a boat ride to the enchanting island of Capri, travel the Grand Prix along the French Riviera, shop and dine in Paris or explore the waterways of Venice. Whatever your heart desires, Royal Caribbean cruses to Europe make it possible.

Cruise to Alaska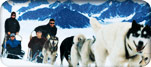 For the best of both worlds; take a luxurious cruise and indulge in the many benefits of a Royal Caribbean cruise ship, then switch it up by discover the natural beauty and wilderness of Alaska! Guests of the Alaska cruise have option to choose from 19 different tours. Itineraries are scheduled from 9 up to 13 nights and not a moment is wasted. With glacial waterfalls, vast northern rain forests and a midnight sun; it's not surprising that Juneau, Alaska is said to be one of the most beautiful cities in America!

Cruise to Hawaii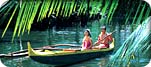 In the opposite direction, Royal Caribbean cruise will take you to the world-renown islands of Hawaii. A place of dreams; Hawaii makes for the ultimate vacation get-away! A few of the many island activities include parasailing, hiking, boating, surfing or simply lounging on some of the most famous world-class white sand beaches. Check out the site for more details!
Believe it or not, there's a lot more where this came from. With 16 highlighted international cruise destinations, the possibilities are endless! Furthermore, Royal Caribbean Cruise lines Allure of the Seas and sister-ship Oasis of the Seas, which constitute the Oasis class of ships, will be the world's two largest and most revolutionary cruise ships when they debut in November 2010 and 2009. In the recent article anouncing the Allure of the Seas' Inaugral Season (March 30, 2009), Adam Goldstein (president and CEO, Royal Caribbean International) says; "Through the last four decades, Royal Caribbean has earned a history of innovation and redefined cruising with each new class of ships we launched." It's truly an exciting time for the Royal Caribean cruise lines and all are welcome to join in on the fun.