River Boat Cruise - Europe
By Hanna Nilson

It's approaching that special time of the year; when flowers start to bloom, the weather warms-up and people get anxious about spending a little extra time outdoors. Well, what better way to enjoy a well deserved vacation then to set aside a few days for a European Riverboat Cruise.
There are many options to choose from. Each cruise line has their own style, themes, pricing and of course destinations. So, where to start? To help you filter your preferences and guide your search for the perfect vacation get-away, here are some suggestions that you may want to consider.
Avalon Waterways: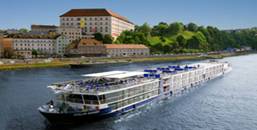 This cruise line features a wide range of European Riverboat Cruises as well as cruise tours through the Galapagos Islands. Avalon Waterways has even received the Conde Nast Traveler awards for Gold List and Top Cruise Ships. Some of their most popular European riverboat cruise destinations include:

Windmills, Vineyards & Paris -2009: A 14 day adventure through France, Luxembourg, Germany, Belgium and Holland; this riverboat cruise is available in May, July and September of 2009. Prices range from $3,529.00 to $3,639.00.

European Splendor - 2009: Traveling on the Artistry river boat; guest will enjoy the best of Europe's Rhine, Main and Danube Rivers. This 14day vacation masterpiece also guides guests through Cologne, Bamberg, Passau, Grein and Vienna. Departing in both May and August; prices range from $3,349.00 to $3,749.00.

North Sea-Black Sea Cruise: If you're looking to spend a little extra time on you're vacation. This riverboat cruise could be the perfect fit! Passing through the North Sea, Black Sea; The Artistry cruise boat will make stops and travel through some of Europe's most famous rivers such as the Rhine, Main and Danube. Unfortunately, there are only two departing dates left for 2009, May 30th and August 8th. So, if this boat cruise suits your taste, you better hurry any make those reservations! Prices range from $6,729.00 to $6,829.00.

Viking River Cruises: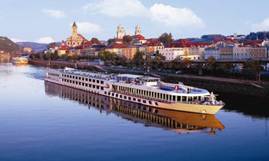 Also awarded the Conde Nast Traveler's Gold List for Travel, Viking riverboat cruise line has been rated among the Leisure World's Best! In High-class style, the Viking riverboat cruise takes their guests all over the world; China, Russia & Ukraine and of course, Europe. Also, if you're looking to save a little extra money, Viking offers some great specials and promotions. Some of these include:

Grand European Tour: This 15 day European riverboat cruise only costs $2,799.00 and will travels though the Danube, Main and Rhine rivers. Destinations include Holland, Germany, Austria, Slovakia and Hungary.

Eastern European Odyssey: For even less; this 16 day voyage only costs $2,299.00. This guided tour explores the wonders of Central and Eastern Europe through the Iron Gate region, Romania's capital, Bucharest and the Black Sea Coastline.

Paris and the Heart of Normandy: If you're only looking to spend about a week or so on you're vacation get-away. This riverboat cruise might be just the right thing. For only $999.00; experience the luxury of Paris, France with the history of the Normandy beaches.

Cruise West - Europe:


This small ship cruise line travels world-wide; Alaska and Antarctica, the Galapagos Islands, European Rivers, British Columbia, Panama Canal and Costa Rica, Japan, Vietnam etc…You name it they've got it covered! Among all of such destinations; Europe's Danube River is one of the most prevailing. Guest have the option to choose from one of their 4 featured European riverboat cruises.

11 Days/10 Nights Cruise Only: This trip will take you either from Vienna to Bucharest or Bucharest to Vienna; through Austria, Hungary, the River Drava, Serbia, Bulgaria and Romania. This tour departs on July 16th, October 13th and 21st with starting prices of $5,199.00 to $6,099.00.

14 Days/13 Nights Cruise + Prague: Guest have the choice to start their trip in Prague or in Bucharest. Either way; this riverboat cruise will pass through Vienna, Hungary, Osijek, Croatia, the River Darava, Serbia, Bulgaria and Romania. Set sail on July 14th, October 11th or 21st for $5,499.00 up to $6,699.00. Check-out the site for more details!

14 Days/13 Nights Cruise + Transylvania: Starting or ending in Vienna, this trip includes a riverboat experience you'll never forget! Whichever direction you choose, the Cruse West riverboat will travel through Romania, Brasov, Bucharest, Romania, Bulgaria, Serbia, River Drava, Hungary, Austria and Vienna. Departing dates are July 16th, October 13th and October 18th and prices range from $5,949.00 to $7,149.00.

16 Days/15 Nights Cruise + Prague + Transylvania: Finally, Cruise West river boat cruising offers this extensive river cruise though Prague, Vienna, Hungary, the River Drava, Serbia, Bulgaria, Romania, Transylvania, Brasov, Sinaia and Bucharest. This extended voyage begins on either July 14th, October 11th or October 18th. Since it is among one of the longer trips, prices are a bit higher; from $6,549.00 to $7,749.00.
Of course, there are many other Europe Riverboat Cruise options for you to choose from, but these select river cruise lines provide a great place to start exploring your preferences. I'm sure that no matter which river cruise you decide to go with, you're bound to have a great time. So, good luck hunting, and all the best for a wonderful river cruise in Europe!