Mediterranean Cruise
By Hanna Nilson
Of all cruise destinations the Mediterranean is one of the most popular and diverse. If you're looking for international exposure and cultural diversity, a Mediterranean cruise is the way to go!
You may find it useful to know that the peak-season for a Mediterranean cruise lasts from late April to October. So, if you plan on booking a ticket, plan a head of time in order to get the best deals. You may also want to consider any particular agenda and desired destination points as they. Cruise details can make a world of differance, for instance, most Western Mediterranean cruises will typically port in Spain, France and Italy. Depending on the cruise line, some may also visit ports in Portugal, Monaco, Tunisia or Morocco. Eastern Mediterranean cruises may include Italy, Greece, Turkey, Croatia, Bulgaria or the Ukraine. "Holy Land" cruises usually combine Eastern Mediterranean cruise ports to Israel and Egypt, while other Mediterranean cruises concentrate solely on Greece.
Some of the curies lines which provide cruising vacations to the Mediterranean include Carnival Cruise Line offers 12-day Mediterranean cruises on the Carnival Liberty. A Carnival Mediterranean cruise is an American-style fun vacation that shows you region the way it was meant to be seen - from the water. Princess Cruises has an expanded Mediterranean season, including additional sailings of the popular Greek Isles cruises and a return to Egypt. Royal Caribbean Mediterranean cruises are some of the most unique in the industry. Mediterranean cruise ships are big, bright, luxurious and comfortable with a lot of open spaces and private balconies. Both the onboard and land activities and services are as diverse as the cruise destinations...a vacation dream!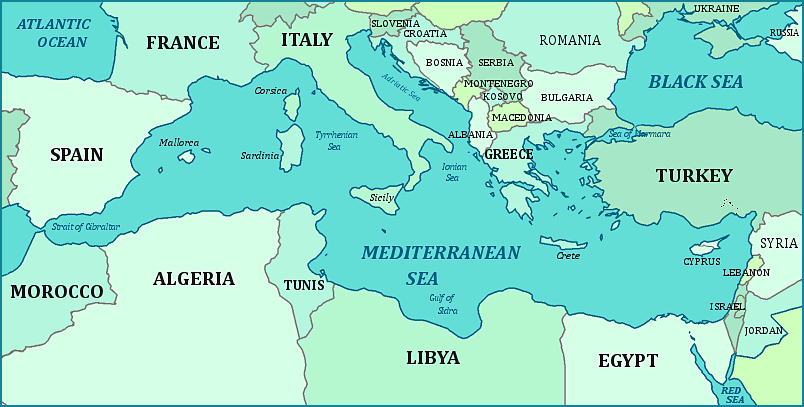 If you're coming from the U.S., you'll have to travel quite a long way to get to your departure point. Keep this in mind for when you plan your trip because you may want to set aside some extra time to recover from the flight before going directly to sea. This may also give you some extra time to visit the area. While some cruise lines offer flight inclusive and pre-cruise hotel packages. Consider exploring the prices yourself because they might not always come with the best deals.
You may end up saving yourself a little extra money by doing some research when it comes to connections and hotel-cruise packages, but this doesn't mean that all package deals are a scam. In fact, CostaCruises.com is offering a pretty good that's available through May 31. It includes two free hotel night stays complete with transfers for guests booking select 7- to 12-night Mediterranean cruises with airfare and it's valid for 7- to 12-night Mediterranean cruises departing from Venice, Civitavecchia and Savona between September 1 and November 30.
A Mediterranean cruise is a journey of a life time. Set sail to Rome, France, Monte Carlo, Spain Greece, Italy -- and the list goes on! Even in this tempered economy cruise lines are going strong and discounted fare's and competitive rates go quicker than ever. So don't hesitate to start planning you Mediterranean vacation today!